Father's Day: Gift Ideas for Your Dad
Father's Day is just around the corner, and we all know the struggle of thinking of what to get them, especially when they claim they already have everything they need! So, we have put together a list of funny, kind, and thoughtful gifts that are perfect to show your appreciation this Father's Day.
Sentimental Gifts
Nothing beats a sentimental gift, it's something they can keep and cherish for a lifetime. A picture is the perfect example. Print out a picture of a treasured memory of you and them and frame it for a thoughtful gesture.
Keeping in theme of pictures, a scrapbook! Gather all your favourite images of you, your father and family for the perfect keep sake. Now he'll have all his favourite memories in one place.
Mugs
Is it really Father's Day if you don't get him a novelty mug? They're available in so many stores and online shops you will be spoiled for choice! You can personalise it too, to make it the perfect sentimental gift.
For the kings of the kitchen…
If your Dad knows his way around the kitchen or is a master of the BBQ, then these gifts would be perfect!
A personalised BBQ gift set – Give your dad the gift of grilling with a personalised BBQ set.
A personalised apron – Keep your Dad's Father's Day outfit clean with a personalised apron, now he can always look the part in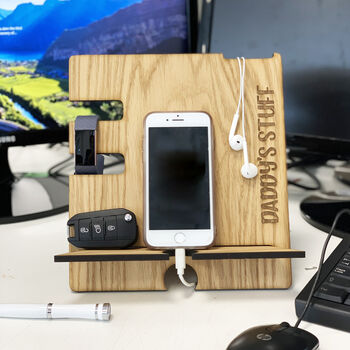 and out of the kitchen!
For the unorganised dads…
If your Father could use some help with organising, a personalised docking station would be the perfect Father's Day gift to keep him organised. Now he has a place to keep all of his bits and bobs.
And when he's on the move, a  gadget travel bag is the perfect gift to give to keep him organised. With multiple pockets and straps, your father can organise all his gadgets whilst keeping them all safe!
We hope our blog post has helped and would love to see any suggestions you may have for Father's Day gifts over on our Instagram!
Love, Team Ziggle x